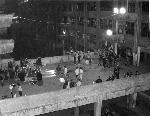 This video is available for purchase on the official
Cranking Rocktober Blowout
website.
In October 1988, several Tech Parkies organized a three-band live concert -- rave style -- at the Brooklyn Army Terminal. It was a huge success. 320 signatures were gathered at the door. A $10 door fee provided free flowing beer from kegs. There was also a cash bar for mixed drinks.
The party was conceived and organized by Rat; the location was found by Mik (it was the location for Underground, a low-budget movie that he and Bonze worked on that summer) who also directed and edited the video; the electricity was wired by Ray and his friend Gary, who also found the lighting -- actual highway overheads. Ian rented the PA and put it together with Gary.
The three live bands were Arbitrage, a jazz-fusion band from Connecticut (friends of Mik); ASD, a thrash band featuring Tech alumns Ian Muller, Andrew Muller and Adam "Bonz" Gilligan; and Gunpowder Stories, a blues band from Forest Hills (friends of Ian and Andrew). There was also a Wet T-Shirt Contest during the ASD portion of the evening. Soooookyyyy!!!
The 2-hour video also includes footage of Rat, Ian, Mik, Gunnar, Bonz, Ray and a few friends cleaning up before the show and generally hanging around and drinking beer.
This video has been remastered and is now available for purchase on the official Cranking Rocktober Blowout website in DVD format. Click the PayPal button to the top right.